Living in Another Country: Blending in
The Expat Bubble
Expats often struggle to completely adjust to living in another country. But sticking exclusively with the expat community may ultimately prevent you from really understanding and immersing yourself in the local culture. InterNations helps you leave your comfort zone!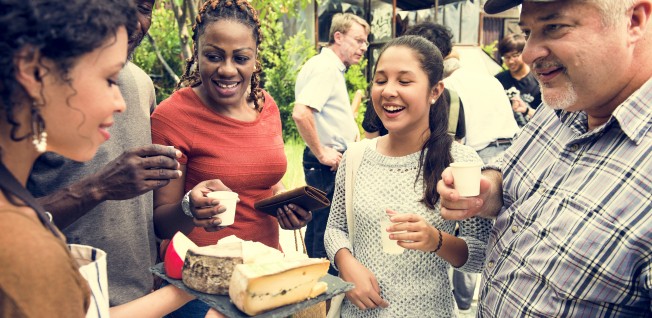 Many expatriates tend to spend most of their time with other expats. Of course, this makes a lot of sense and is an important part of living abroad. After all, it's what InterNations is all about! However, if you are in it for the long haul, you should try to blend in with your host country's culture.
Mingling with the Locals
There are many reasons why you should mingle with the locals. The most important one is that they know all the good places. Locals and long-term expats can show you the most beautiful spots around town. No tourist guide book can ever give you the same inside information on where to buy the freshest food, where to get the cheapest deals or where to sip the best cocktails in town.
"Even though I had lived in Hong Kong for almost half a year, I was completely detached from Cantonese culture. I spent most of my time at work or with other expats," Antonia (36) remembers. She moved from Milan to Hong Kong on a work assignment for an international designer brand in 2009.
However, her outlook changed rapidly when she was invited to celebrate the Chinese New Year with some of her Cantonese colleagues. Antonia learned about the various traditions and customs surrounding the New Year celebrations. "We ate dumplings and nián gāo, a very sweet and sticky cake pan-fried with eggs, and they explained to me how they would send pieces of nián gāo to their family members over the next few days."
How to Meet Non-Expats
When she started spending more time with her co-workers from Hong Kong afterwards, Antonia learned which behavior is considered appropriate in Hong Kong's society and what social faux pas she had committed when she'd laughed about feng shui architecture in their office building.
But most of all, Antonia met people who helped her understand this new culture she had often avoided at the beginning of her stay. Sports clubs, networking groups for professionals, or arts & crafts classes are great places to meet local people. Most expats also get in touch with locals at work or via their children's school.
If you have accompanied your spouse abroad and are unable to get a work permit, you can volunteer for a local charity or become involved in a community organization instead. If you really want to, there is always a way of mingling with the locals.
Further Reading
Why Global Employees Should Break Out of the Expat Bubble
When foreign assignees and international hires move abroad for work, they are away from their comfort zone, friends, and family. It is often easier for them to stay exclusively within the expat community and not immerse themselves in the local culture, but there are important reasons to move beyond the expat bubble.
Global Expat Guide Topics
Other Topics