How Expat Friendships Can Save the World and Your Health
How Expat Friendships Can Save the World and Your Health

By Nina Hobson
The United Nations has chosen 30 July as the International Day of Friendship. On this day, we should "cultivate as many warm relationships as possible, enriching our own lives and enhancing the future", according to Ban Ki Moon. InterNations member Nina explains why expat friendships are so important.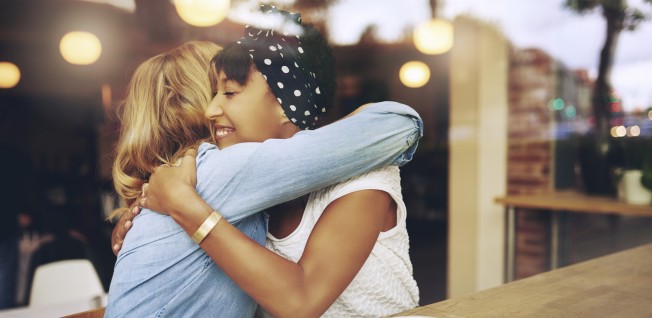 The more cynical among us might view Friendship Day as a ploy by public relations gurus, greeting card companies and gift stores to make us spend more money.
Mind you, if we honor our moms on Mother's Day and our dads on Father's Day, then surely we should spare a thought for our best buddies? After all, family life is a lottery — some win, some lose. Some are lucky enough to be born into fantastic, loving relationships, others less so. Friends, on the other hand, we seek out precisely because we need them.
This is especially true for expats. On every new foreign assignment we face the unknown, perhaps with trepidation, perhaps with fear, perhaps with excitement. It is our friendships that act as a bedrock of stability, that enrich and facilitate our experiences. Old friends reassure us and help us mark out the path we want to take, new friends sweeten the journey.
Studies even prove that not having friends is harmful for the body. Researchers at the University of North Carolina at Chapel Hill found that positive social relationships can reduce obesity, inflammation and high blood pressure. Similarly, studies by Carnegie Mellon University, in Pennsylvania, show that, as well as being happier and more physically active, adults with good social lives had a lower risk of cardiovascular disease. It gets better — researchers at Brigham Young University, in Utah, found that friends can boost our survival rate by a half. Compared to other risk factors, making do without friends is akin to smoking 15 cigarettes a day, or being an alcoholic.
Creating a Home Away from Home
Great news for social butterflies, but what about us expats separated by oceans, mountains and thousands of air miles from our best buddies? Thankfully for us, research also proves that even online social interaction has a hugely positive effect. As long as it consists of more than a 'like', a 'poke' or a 'twinkle', a digital conversation can be just as beneficial as a face-to-face chat.
I can concur. Having spent time in locations that many consider challenging (Angola, Lebanon, Syria and very rural India), I know that it is not necessarily the environments themselves that are difficult to handle, but rather the support network, or lack of. In India I didn't have ready access to flushing toilets, hot water, electricity or internet, but I was surrounded by fabulous people. Anyone who has lived in far-flung places knows that a connection with people is more powerful than internet connectivity. The effects were physical and dramatic. Eczema and psoriasis, two skin conditions which had turned the greater part of my body into an itchy, flaky mess, melted away as my new friendships evolved.
It's not just my skin that should be grateful to my expat friends. As an expat I arrived as an outsider and met a far wider circle than I might have done back 'home'.
Expat Friends from All Walks of Life
Like many people, when I'm not sure about something mundane like an item of clothing or something more important such as career choices, I check with a friend for a second opinion. The difference as an expat is that this friend may be 19 or 90 years old, they may live thousands of miles away in India or they may not speak my native language. They may be a devout Muslim, a practicing Catholic, or a confirmed atheist.
Expat friendships have changed my take on life, and opened up my social circles.
A 90-year-old friend never lets me forget the past, a friend in her twenties makes me excited for the future, and a friend in Syria inspires me to cherish the present. It is a desire to stay in touch with these friends, to log my experiences with them forever in my memory and to celebrate new friendships that made me start my blog.
Apply expat friendships on a global scale and I'm sure we'd notice a difference. Racism, ageism, sexism, prejudice in all its forms, is born out of ignorance. When you really get to know someone and they become a true friend and an equal, it's far harder to foster feelings of prejudice.
'There are no strangers here, only friends you haven't yet met' said Irish poet William Butler Yeats.
Very soon I'll be moving country again. As well as liaising with furniture removal, health insurance and relocation companies, on this year's International Day of Friendship I will without a doubt be skyping with my dearest Lebanese friend in Belgium, texting my favorite American buddy in Switzerland or facetiming my best friend in Delhi. And with any luck I'll be making new friends too.
---
Global Expat Guide Topics