Energizing the InterNations Paris Community
---
From dancing the Irish jig, flash mobs to picnics at the Eiffel Tower on Bastille Day, Christine Bos has a great reputation for organizing creative and fun activities for the InterNations Paris Community.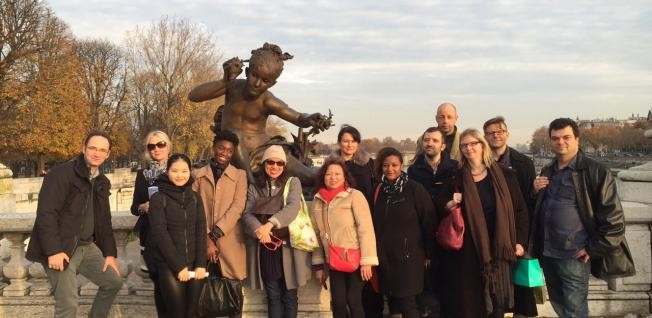 Christine joined InterNations in 2012 on a friend's recommendation, but it wasn't until 2014 that she became the Consul of the InterNations Paris Singles Group.
"I really enjoy meeting people. Paris is such a culturally diverse city and I found InterNations to be a great place to meet other international people. I had lived in Paris for so many years and had a lot of interesting ideas for activities I wanted to do around the city, so I thought being a Consul would be a bit of fun."
"When I first saw the singles group, there were around 200 members and no activities. To be honest I was a little shocked — for such an international city like Paris this wasn't good enough. Somebody had to do something about it, so I joined as the Consul in April 2014."
Christine recalls being very apprehensive about the turn out when she posted her first activity. The number of people who signed up surprised her, even more surprising was the amount of people who came. From this first activity, Christine has continued to create fun and interesting activities that she likes and enjoys sharing them with InterNations members.
With Christine as Consul, the Paris Singles Group has grown from 200 members in April 2014 to over 1100 members in just 12 months. "I'm really amazed at the growth we have had; people really seem to enjoy doing the things that I like to do," Christine says.
Since becoming an InterNations Consul, Christine has hosted over 130 activities between her Paris Singles Group, Volunteer Group and Joie de Vivre ('The Joy of Life') Group. Given her naturally creative approach to the activities she hosts, it's no accident that her activities are so popular.
"I would say one of my more memorable activities was a 'Midnight in Paris' movie trail walk. The film was shot here in Paris, so I researched the shooting locations and took my group on a tour of Paris in the footsteps of the main character from the film. We got to see parts of Paris that we never would have thought to visit. The participants had so much fun that I often get asked when our next one will be."
What are Christine's top pieces of advice for new Consuls?
The most important thing is to have fun! You can't please everybody and you don't have to. The main thing is to create activities that you like and enjoy.

Try out your different activity ideas, even if they are a little crazy. If it works, great. If not, don't worry. You can try something else next time. Remember to ask your group members for their ideas as well.

You don't need to spend a lot of money to create a really fun activity. For me, I try and create activities that are either free or relatively inexpensive.
---
About Christine Bos
Born in Singapore to Chinese and Malay parents, Christine moved to France in 1990 as the trailing spouse of an expat. Like many expatriates, what initially started as a 5-year stay has extended to 25 years — she now calls Paris home.
---
Recent Activities organized by CHRISTINE
More Stories from Consuls Worldwide
Facts & Figures
420

InterNations Communities worldwide

4,100

InterNations Consuls representing 143 nationalities

3,300

InterNations Groups worldwide for all kinds of interests

3,700

InterNations Activities per month across the globe