Bridging the Gap in Hong Kong
---
A great fun Halloween party and English classes for underprivileged children, Mavis has brought a happy smile to the faces of many children in Hong Kong!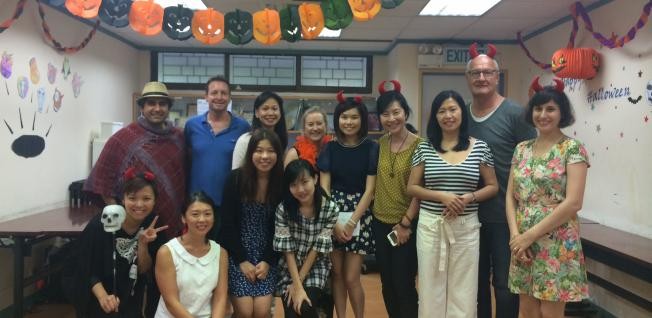 In 2013, an expat friend introduced Mavis Lee to InterNations. Ever since, Mavis Lee has been a regular attendee of InterNations Activities. Born and raised in Hong Kong, Mavis is happy to be part of our network as a valued global mind.
Having been actively involved in volunteering with NGOs since she was 18, Mavis was delighted to take on the role of Group Consul for the Hong Kong Volunteer Group in 2014. Her main interests lie in fighting poverty and increasing public awareness of environmental protection.
"Many expats told me that actually they share the same interest as me and they would love to get involved in activities that could help the needy directly."
Our members want to get involved in helping underprivileged people in their communities, but it can be a challenge to know the best ways to do this. Particularly given that expats don't always speak the local language and the sometimes only limited information available. This is where our Volunteer Group Consuls come in; helping to give our members direction and easier ways to do something good in their city.
"As a local, I believe that I can make a difference to society by using my language skill and local insights to bridge the gap between the expat volunteers and the needy."
The Hong Kong Volunteer Group supports the Non-Profit Organization Hope Worldwide. This organization brings people and communities together to deliver sustainable and high-impact education and health services to the poor and needy.
Over the last year, the Volunteer Group has brought a happy smile to many disadvantaged people as well as to InterNations volunteers! Mavis' proudest activity was supporting a series of English classes designed for children from disadvantaged families in Hong Kong. Over 30 InterNations volunteers provided the children with the chance to talk to native English speakers, helping train them to become more confident in their daily English conversations.
Mavis' Tip for New Consuls:
"Good communication with the NGOs is essential. Understand their concerns and their yearly planning so that better resource and event management can be achieved."
---
About Mavis Lee
Born and raised in Hong Kong, Mavis has been an active member of the InterNations community since 2013. Taking on the role of Volunteer Group Consul in 2014, Mavis has since organized great activities which have had a really positive impact on the community, and brought happiness to both InterNations members and the underprivileged!
---
Recent Activities organized by Mavis
More Stories from Consuls Worldwide
Facts & Figures
420

InterNations Communities worldwide

3,964

InterNations Consuls representing 139 nationalities

3,300

InterNations Groups worldwide for all kinds of interests

3,700

InterNations Activities per month across the globe